(i)

CUBIST GHETTOS

I think
To shrink
The distance
Of resistance
Inside self
To all else-

Knowing
Showing
Vulnerability
In the mystery
Leaves what is closed
Openly exposed-

To explanation
Under examination
When there isn't one
That hasn't gone
Until roof floor and sky door
Are no more-

Only roulette rubbles
Of drone troubles
Imprisoning
Reasoning
In cubist ghettos
Wearing jazz stilettos-

Flashing flamingo legs
To pink paradise harlem heads
While new trees grow up mute
And ripen with strange fruit
Some whites too this time
A drowned boy me and mine.


(ii)

CLOUDS OF CHAOTIC CROWDS

Smitten-
Bitten
Like Faustus-
Leave the house dust
With fool's gold
Unsold.
This conveyor belt lair
A castle in the air
For Dante's dreams of doubt
To wander about
In, with voices that pretend
To be a different friend-
Oh my, what a frame,
Too big to blame
And beyond a simple say
To save and stay-
So, close the dungeon door
To be what you were before
And walk away
Into the clouds
Of chaotic crowds
Falling as rain
On sterile plain.


(iii)

DOES HER FAR BEAUTY KNOW

does her
far beauty know
where my thoughts go
without her
when i walk
in lush rain lashing down-

squatting in enclosed fields
of remote wheat and barley
around told feudal cities and towns-
to talk
to fate and how it feels
to be emptied entirely
of hopes sounds-

these evolutions
fill rich men's purses
and revolutions
are poor universes
that try to bend
the unequal
to be equal
without end.

does her
far beauty know
where my thoughts go
with her
when i walk
in lush rain lashing down-

soaked in moments come to this
paradise and precipice
belonging
bonding
thoughts
serendipitous
blowing into us-

gives shelter to the self
of us and other else-
unlike bare rooms we rent
to leave behind
when change moves us to fit
into it-
with only our echo and scent
of passion and mind.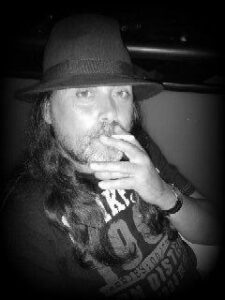 Strider Marcus Jones – is a poet, law graduate and former civil servant from Salford, England with proud Celtic roots in Ireland and Wales. A member of The Poetry Society, his five published books of poetry https://stridermarcusjonespoetry.wordpress.com/ reveal a maverick, moving between cities, playing his saxophone in smoky rooms. He is also the founder, editor and publisher of Lothlorien Poetry Journal https://lothlorienpoetryjournal.blogspot.com/

His poetry has been published in the USA, Canada, Australia, England, Scotland, Ireland, Wales, France, Spain, Germany; Serbia; India and Switzerland in numerous publications including: Dreich Magazine; The Racket Journal; Trouvaille Review; dyst Literary Journal; A New Ulster; Impspired Magazine; Literary Yard Journal; Piker Press; oppy Road Review; Cajun Mutt Press; Rusty Truck Magazine; Rye Whiskey Review; Deep Water Literary Journal; The Huffington Post USA; The Stray Branch Literary Magazine; Crack The Spine Literary Magazine; The Lampeter Review; Panoplyzine Poetry Magazine; Dissident Voice; & Poetry Life and Times,Artvilla.com.





Robin Ouzman Hislop is Editor of Poetry Life and Times ; You may visit Aquillrelle.com/Author Robin Ouzman Hislop about author. See Robin performing his work Performance (University of Leeds)