I'm a talking point at work (according 
to my friends in the smoking shed) for 
my rogues' gallery of eclectic leggings.
I work in forensics, jeans are banned 
and skirts are inappropriate. So, by 
accident, I became a connoisseur
and curator of (possibly) the largest 
private collection of these garments
in the country. I started small, with
some mild animal print and floral 
patterns, like tasteful watercolours 
by drawing-room ladies. These were
popular with audiences so I got bolder 
and trawled the internet in search of 
rare subjects by obscure artists. Next 
I ventured into Fauve and Abstract 
Expressionism: sugar skulls grinned 
from my thighs while Kahloesque 
tropical foliage twined up my legs 
like lianas. Parrots and tigers made
me the baddest cougar in the jungle. 
From landscape, I moved indoors and
had a phase of moody, contemplative
interiors, memento mori and still lives,
with death's-heads, heavy tomes, 
drooping roses, and Mary Magdalen 
repenting her shady past by guttering 
candle-flame, my form obscured by
smoke and mirrors. This chiaroscuro 
intensity gave way to outdoor relief
as the Garden of Eden took root, in
the clear outlines and spare colours
of the Northern Renaissance. Adam 
and Eve were chastely nude and 
aroused no comment. However, the 
serpent's location and destination 
caused ribald speculation amongst 
the ladies. My tour de force was 
Bosch's 'Garden of Earthly Delights'
and his psychedelic vision of the 
human condition seemed to strike 
a chord with my public's internal 
world, of private delusion and its
face of routine pragmatism. They
sometimes joked there was a room
spare if I wanted to join them on the 
ward. While some of my more fragile 
canvases are being restored I've 
brought some museum pieces out 
of storage. So far it's been alchemical
symbols, a Viking longship and Egyptian 
tomb-paintings. I, myself, may be the 
oldest living exhibit on record. Autumn 
is on us already, so the last gasp of 
summer means I'm planning 'Sunflowers' 
next before I hang 'Hunters in the Snow'.
Unless Covid comes back and I have to 
close down the show under the Rothko-
blue pall of my strait-jacket scrubs. In 
that case, I'm breaking bad: I have a 
set in jumpsuit orange. No stripes or
arrows, though. Banksy's definitely next.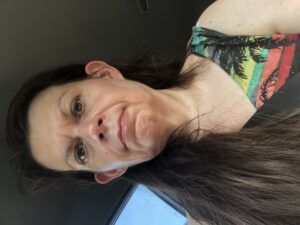 About Kate Meyer-Currey's poems

Kate Meyer-Currey moved to Devon in 1973. A varied career in frontline settings has fuelled her interest in gritty urbanism, contrasted with a rural upbringing. Her first chapbook 'County Lines' (Dancing Girl Press) comes out this Autumn. Her second Cuckoo's Nest' (Contraband Books) is due in February 2022.










Robin Ouzman Hislop is Editor of Poetry Life and Times at Artvilla.com ; You may visit
Aquillrelle.com/Author Robin Ouzman Hislop about author & https://poetrylifeandtimes.com
See Robin performing his work Performance (University of Leeds)