[the Writing of Kuypers] [JanetKuypers.com] [Bio] [Poems] [Prose]
---
tuesday nights 2010
Janet Kuypers
(poetry converted to prose)
Tuesday nights were the nights dad went out with the boys in the builders tee club and it was just the girls at home. i remember a story of when mom and dad were younger and dad would come home late on tuesdays, drunk, and one time mom decided to scotch tape the front door lock, and dad tried and tried to use his key but just couldn't get in the front door. well for me tuesday nights were spaghetti nights, because dad hated spaghetti but we loved it. there was no meat in it, I could hear him saying. but when i was younger, i remember thinking that my favorite day of the week was not Saturday or Sunday, free from school, but Tuesday, when we had spaghetti or elbow noodles in a milk and butter sauce and it was the girl's night together.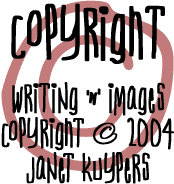 Copyright
Chicago poet Janet Kuypers
All rights reserved. No material
may be reprinted without express permission.



---

---
---
---

---

---