[the Writing of Kuypers] [JanetKuypers.com] [Bio] [Poems] [Prose]
---
Thinking. I hate that. 2010
Janet Kuypers
(poetry converted to prose)
I think the reason why I'm doing this is because I'm lonely. I'm sorry. I'm rationalizing. But I look over and see the bartender's yellow bracelet, and I imagine having a conversation and I ask him if there's a cancer story, and he says no, and he asks about my blue bracelet (which happens to have ALS at the top for us to see).
and I have stories with MY cancer bracelet that I'm not even wearing, which I won't get into...
and I think about the cancer and he asks me about the ALS and then I start thinking.
I hate that.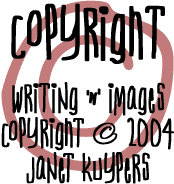 Copyright
Chicago poet Janet Kuypers
All rights reserved. No material
may be reprinted without express permission.



---

---
---
---

---

---