the Writing Of My Life 2010
Janet Kuypers
(poetry converted to prose)
i planned for everything. you knew me, you knew i had scripted everything out accordingly. you knew i was a writer; you knew i was a poet — you even knew i was starting my novel. (did you even know that i used your mother's maiden name as a last name for the scottish lab technician in my book?) well, as i was saying, iv'e worked it out over the years, and i've figured out how to take care of myself... i've figured out how to get ahead in the game. and you know, I did pretty well i had scripted my life out
i was an open book.
but i was careful, i know that at the beginning of the page some things made my pen swirl, and i started to write on an angle and sometimes i'd curl around on the page or write upside-down... but as i figured out how i wanted my life to be, i was quite meticulous in my writing. the page actually looked quite graceful. and i've still got room left on that page for more writing, for more living... but i think so far it was looking pretty good. i figured out how i wanted the page to look and i did just the right things with the writing on the page. well, the writing of my life was looking pretty good.
and after meeting you, you were a nice edition to the writing of my life. you even saw me play at my last live chicago concert and, well, you enriched my life. even though sometimes you'd piss me off, you were vibrant, and you helped that page look better. and then...
and then you had to go die. i don't even want to talk about you not taking care of yourself enough: i know you worked out, but scottish or not you were diabetic. you should have checked your blood sugar levels more. you shouldn't have drank so much.
i know you wanted to work on the writing of your life, but you must have known you couldn't cram all that living into your body. you should have known that.
but you know, you weren't a writer i don't know if you ever looked at the writing of your life or if you just relied on what you painted to show how you felt. but you knew i was a writer and you knew how i watched over everything in my life... you knew i was the one in charge. you knew i had a plan for everything. you knew i worked my ass off. you knew i succeeded at everything i did. you knew.
you knew and you had to go off and die and mess up my whole page.
because right at that point that god-damned pen started scribbling all over the place, and it made a real mess out of part of my life. yeah, you know i cried for days for you. (who am i kidding, i cried for months and years later i still cried for you.) yeah, no one wanted anything to ever happen to you, but sometimes, you know, like in the stages of recovery, anger is one of them, blame is one of them... right now all i can do is be angry at you for dying, because i haven't gone through all the recovery steps yet but i have to blame someone for making me feel this way, don't i?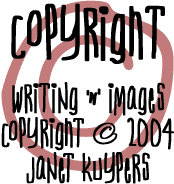 Copyright
Chicago poet Janet Kuypers
All rights reserved. No material
may be reprinted without express permission.