[the Writing of Kuypers] [JanetKuypers.com] [Bio] [Poems] [Prose]
---
Only For One Night 2010
Janet Kuypers
(poetry converted to prose)
I had left everything, and I stumbled upon you.
I didn't know what I was looking for, but when I came to you, I thought: from here, I've got a nice view. and I thought that was enough.
you had the same anger in you as I, and I didn't think anything of it until I was alone, and saw that we could be angrily, passionately together — even if it was only for one night.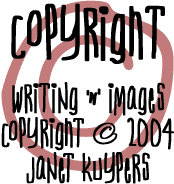 Copyright
Chicago poet Janet Kuypers
All rights reserved. No material
may be reprinted without express permission.



---

---
---
---

---

---