helping men in public places 2010
Janet Kuypers
(poetry converted to prose)
So it was new year's eve and we were standing on forty-second street and the avenue of the americas. we were a few blocks away but we had just the right view of times square. and yes, there was freezing rain but i didn't really care, since i was just in new york for a few days. it was 10:55, we still had a long time to wait standing with i don't know how many thousands of other people, some of them were climbing up the light poles, all of us pushing forward into the street, despite the police officers on horseback rushing at us back toward the sidewalk.
and our paper bag fell apart in the rain, so i let the glass water bottle fall to the curb, and our friend told us he needed to go to the bathroom real bad, you know, so i told him to go right here in the street, no one will see him. but he didn't want to piss on someone's shoes, so he asked if i had a bottle, so I picked up the water bottle from the curb, and when he finished his job he closed up the bottle and put it back on the sidewalk.
god, and you, too, getting on the train after the ball dropped, more rain and a bottle of champagne later, saying you had to go real bad, too, so i pulled an empty beer bottle from my coat pocket, you covered the train window with your coat and I blocked your view from the aisle while you took care of the matter at hand. i'm amazed that that bottle didn't tip over on the train floor during that hour commute, our first of the new year, while i slept on your shoulder. and i'm amazed that i ended one year and began another helping men i know, in public places, piss into bottles.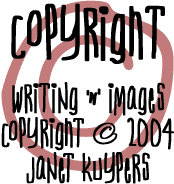 Copyright
Chicago poet Janet Kuypers
All rights reserved. No material
may be reprinted without express permission.