Al Capone caught for tax evasion; O. J. Simpson caught for robbery

According to a Reuters story from Canada (titled "Simpson jailed as "flight risk" amid media frenzy") about Orenthal James Simpson, "Simpson was arrested (in Las Vegas) on suspicion of armed robbery, assault with a deadly weapon, conspiracy and burglary. An expletive-laden audiotape surfaced in which Simpson was apparently heard issuing threats." Defamer.com even outlined that "Simpson was charged with two counts each of robbery with a deadly weapon and assault with a deadly weapon, and one count each of conspiracy to commit burglary and burglary with a firearm. The first two carry sentences of anywhere from 6 to 70 years in prison. [NY Times]"


Hmm.


You know, I could talk about the war at great length, but when I hear about your favorite murderer and mine, I think I should give you my phone number so you could call to talk to me about O. J. Simpson:
264-8927

I give you my phone number so you can talk to me about either his murderous ways (check out the editorial "DNA Versus Emotion") or about him recently coming into a private sale of (potentially) his merchandise with goons and a gun.


Wait a minute. How silly of me. That's not my phone number. That's O. J. Simpson's jail I.D. number. Never mind.


But really, it's convenient when we're so faced with grappling with either the war in Iraq or the potential presidential candidates, it's nice to see something in the media taking our little minds away from grappling with the fate of our country. In the past, our recent forays into the media have been about either the death of Ana Nicole Smith, or the inadequacy of Britney Spears with her equally less-than-intelligent husband Kevin Federline and the raising of their two children. It's nice that we can wrap our minds around crimes following a murderer who got off on technicalities in what most call the "crime of the century."

The Reuters Canada article even went on to say, Simpson "was denied bail because he was considered a possible flight risk and had no ties to the local community, Clark County Judge Nancy Oesterle said.


An audiotape of the incident, reportedly made by one of the dealers, was released on Monday by the celebrity Web site TMZ.com. In the recording, a man said to be Simpson is heard saying: "Don't let nobody out of this room ... Think you can steal my shit and sell it?""


In the AP article O. J. Simpson, accused in Las Vegas robbery, says he was reclaiming sports memorabilia, "TMZ said the recording was made on a handheld recorder belonging to Thomas Riccio, co-owner of the auction house Universal Rarities. Riccio did not immediately return a call for comment Monday.


Simpson has said Riccio called him several weeks ago to say some collectors were selling some of his items. Riccio set up a meeting with collectors under the guise that he had a private collector interested in buying Simpson's items.


Riccio told the site he believed Simpson was planning to confront Alfred Beardsley, who was allegedly planning to auction off Simpson memorabilia. The site said the objects of Simpson anger were Beardsley and another collector, Bruce Fromong.


Simpson was accompanied by men he met at a wedding cocktail party, and they took the collectibles. Fromong said Simpson was the last of the men to enter the hotel room and was not carrying a gun."


But I think I heard one of the arrested cohorts with Simpson mention something about Simpson having his money in off-shore accounts. If any of that could be proved, there would be new charges brought against Simpson.

Simpson was let out $125,000 bail, and had to relinquish his passport (you know, so he's not a flight risk), but then I was asked if he would be tried individually or as a group with the other men involved in this robbery? And I figured that he would be tried individually, but then it was suggested to me that maybe he should be tried in a group, you know, to put him in league with all of these other felons in his I-want-my-stuff-back heist.


Speaking of the men he was with in this robbery, someone heard a DJ on Chicago radio call this group of men "O. J.'s Eleven," which probably had something to so with the fact that O. J. Simpson was the only man out of the 11 involved who didn't have a felony (isn't that funny). Well, who knows what the "Eleven" was for, it could have been for the fact that there were 11 charges against Simpson and 10 of them were felonies.


Newsmax.com even talked about Simpson facing jail again, noting that "The Las Vegas police followed textbook criminal procedure, carefully arresting, charging and questioning the accomplice and obtaining two firearms and other evidence before going after O. J.


The accomplice, Walter Alexander, was arrested on two counts of robbery with a deadly weapon, two counts of assault with a deadly weapon, conspiracy to commit robbery, and burglary with a deadly weapon, enough charges to induce a deal with prosecutors."


But considering Simpson and robbery and felony, it reminds me of how they ended up catching Al Capone: he was in charge of I don't know how many murders over his career, but they got him by arresting him for tax evasion.


So yeah, people have speculated that this "catching" has been set up, that the police seemed far too eager to find and pounce on Simpson for this crime. And maybe they are, I don't know — maybe they are working extra-hard to be able to catch Simpson on something, and as my husband said, if the law seems a little slanted against a person, because it is O. J. Simpson, he doesn't mind the law being slanted this way at all.

But Simpson said "he did nothing wrong and was merely trying to retrieve his own collectibles, personal photos, his Hall of Fame certificate and other items he said had been stolen by a former sports agent" (according to that same Reuters Canada article). And on some levels he's totally right, those were his things, and he had every right to own the things that were stolen from his home. But all I can think is that there are legal ways to get your stolen belongings back, and there are illegal ways, I mean, O. J. Simpson ways, by getting a few men together with guns, and say to them, "Don't let nobody out of this room"? And I don't know if that point's been brought up to Simpson, because I heard someone say (though I can't confirm that this is something that really happened) that Simpson told the police a number of times he knew who possessed his stolen goods, but the police didn't follow up on any of Simpson's requests. And that may be a true account, that cops won't take any honest complaints from Simpson seriously because, well, he's O. J. Simpson, but then if that's true, the question still begs itself: is the answer to solve problems to do something illegal to correct his problems?


Well, Simpson said so when he was quoted in a Reuters update (UPDATE 6- O. J. Simpson held without bail in Las Vegas robbery): ""I'm O. J. Simpson. How am I going to think that I'm going to rob somebody and get away with it?" he said. "You've got to understand, this ain't somebody going to steal somebody's drugs or something like that. This is somebody going to get his private (belongings) back. That's it. That's not robbery.""


Oh, wait, we're talking about O. J. Simpson. Maybe doing something illegal is what comes naturally to O. J. Simpson.

But even if there are many people who hope this will be the way to get Simpson in jail for once, CBS News will even remind you that Simpson has even been nick-named the Teflon Defendant because he seems to be able to avoid conviction. In "Think O. J. Is Jail-Bound? Not So Fast," CBS News point out that "just because O. J. Simpson is disliked by many people does not mean that he is doomed when it comes to his current legal predicament."


Because CBS News pointed out that he has been prosecuted for many things since the murder trial, and was always acquitted. Here's a list of some of those legal troubles:


# In 2005, Simpson's neighbor in suburban Miami called the police to report a fight. Police showed up but no charges were filed.


# In 2004, Satellite television network DirecTV Inc. accused O. J. Simpson in Miami federal court of using illegal electronic devices to pirate its broadcast signals. Simpson was ordered to pay $33,678 in attorneys' fees and costs.


# In 2003, police responded to a call from Simpson's teenage daughter. She said she needed help for "an abuse thing." No charges were filed.


# In 2002, Simpson paid a $130 fine for speeding through a Florida manatee zone in a 30-foot powerboat on the Fourth of July. An arrest warrant was briefly issued for his arrest.


# In 2001, Simpson was cleared of all charges in a Florida case involving an alleged road-rage incident.


So, apparently he's had his share with trouble from the law, but was never seriously sentenced for any real misdoings.


Maybe he is the Teflon Defendant.

I mentioned that people look to O. J. Simpson for anything related to the news or to crime, and people look for media news in the likes of Anna Nicole Smith or Britney Spears. But when I asked someone in Wisconsin her opinions on the O. J. Simpson robbery, she said she just really didn't care. Then she added that the news could cover something that's related to us — not even necessarily about the war, but maybe about something like education, or taking care of the people in this country here.


And I thought she really had a point; when I turn on the television I don't look to entertainment, I turn to the news — and not that Regis and Kelly crap, or even the Today Show or Good morning America, but I turn to CNN, MSNBC, even Fox News or Headline News, where half of the news right now deals with either terrorist information or the political campaign. But at the same time, I'm still just like some of the drooling masses, who wants to know more about O. J. Simpson, who saw what they thought was a grave injustice in the double-murder trial of the century and wants to somehow see what trouble Simpson can get into now, and if anyone will ever be able to actually put him behind bars. Yeah, it's a trite and petty desire of the American masses, but don't be mad if I want to pepper my news with something more media looking for justice when it comes to the Juice.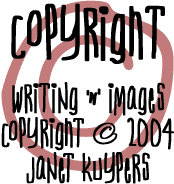 U.S. Government Copyright
Chicago poet Janet Kuypers
on all art and all writings on this site completed
before 6/6/04. All rights reserved. No material
may be reprinted without express permission.