[the Writing of Kuypers] [JanetKuypers.com] [Bio] [Poems] [Prose]
---
Following... or Killing
Janet Kuypers
written for the 02/15/05 show "How Do I Get There?"

How do I get away from those who like to kill? What should I say, if you can't lead, then follow? If you can't beat them, join them? How can you get to that point? How do I get there?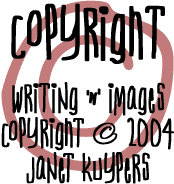 Copyright
Chicago poet Janet Kuypers
All rights reserved. No material
may be reprinted without express permission.



---

---
---
---

---

---