Janet Kuypers was honored multiple years at Carl Sandburg High School and on the Dean's List and graduating with a Communications degree in News/Editorial Journalism (starting in computer science engineering studies) from the UIUC. She had the equivalent of a minor in photography and specialized in creative writing. A portrait photographer for years in the early 1990s, she was also an acquaintance rape workshop facilitator, and she started her publishing career as an editor of two literary magazines. Later she was an art director, webmaster and photographer for a few magazines for a publishing company in Chicago, and, after getting married, she became a certified minister was was the officiant of a wedding in 2006. This Journalism major was even the finaé featured poetry performer of 15 poets featuring at the 2006 Society of Professional Journalism Expo's Chicago Poetry Showcase. One of her 2019 Periodic Poetry poems also was a contest winner, announced by Science & Engineering News.

She sang with acoustic bands "Mom's Favorite Vase", "Weeds and Flowers" and "the Second Axing", and does music sampling. Kuypers is published in books, magazines and on the internet over 10,000 times for writing, and over 17,800 times for art work in her professional career (she also has frequented the Internet with videos of readings), and has been profiled in such magazines as Nation and Discover U, her poetry was nominated for the Pushcart Prize multiple times, won the award for a Poetry Ambassador and has been Poet of the Year. She has also been highlighted on radio stations, including WEFT Champaign radio (90.1FM), WLUW chicago Radio (88.7FM), WSUM Madison, WI radio, KOOP Austion radio (91.7FM), WZRD Chicago radio (88.3FM), and WLS (8900AM - the largest talk new radio station in Chicago, where at one point she even had a ~10 minute interview and discussion live on the air about her literary magazine "Children, Churches and Daddies"), the internet radio stations including the weekly JohnMac Radio Show, ArtistFirst dot com, chicagopoetry.com's Poetry World Radio and Scars Internet Radio (SIR), and was even shortly on Chicago's Q101 FM radio. She has also appeared on television for poetry in Nashville (in 1997), Chicago (in 1997), and northern Illinois (in a few appearances on the show for the Lake County Poets Society in 2006). Kuypers was also interviewed on her art work on Urbana's CBS / WCIA channel 3 10 o'clock news, and in 2019 was features in a half-hour show Texas Nafas Poetry, before she started hosting episodes of this monthly tv show.


She turned her writing into performance art on her own and with musical groups like Pointless Orchestra, 5D/5D, The DMJ Art Connection, Order From Chaos, Peter Bartels, Jake and Haystack, the Bastard Trio, and the JoAnne Pow!ers Trio, and starting in 2005 Kuypers ran a monthly iPodCast of her work, as well mixed JK Radio — an Internet radio station — into Scars Internet Radio (both radio stations on the Internet air 2005-2009). She even managed the Chaotic Radio show (an hour long Internet radio show 1.5 years, 2006-2007) through BZoO.org and chaoticarts.org. She has performed spoken word and music across the country - in the spring of 1998 she embarked on her first national poetry tour, with featured performances, among other venues, at the Albuquerque Spoken Word Festival during the National Poetry Slam; her bands have had concerts in Chicago and in Alaska; in 2003 she hosted and performed at a weekly poetry and music open mike (called Sing Your Life), and from 2002 through 2005 was a featured performance artist, doing quarterly performance art shows with readings, music and images.

From 2010 through 2015 Kuypers also hosted the Chicago poetry open mic the Café Gallery, while also broadcasting weekly feature and open mic podcasts that were also released as YouTube videos. Since her 2015 move to Austin, TX, she has frequented local newspapers, magazines, radio and television, and started hosting the 1st Sundays "Poetic License" open mic at the Austin Public Library bookstore.

In addition to being published with Bernadette Miller in the short story collection book "Domestic Blisters", as well as in a book of poetry turned to prose with Eric Bonholtzer in the book "Duality", Kuypers has had many books of her own published: "Hope Chest in the Attic", "The Window", "Close Cover Before Striking", "(woman.)" (spiral bound, available in your choices of 8 different covers in the 2nd printing, with the bark cover, the black rocks cover, the original fleckstone cover, the metal building wall cover, the red barn door cover, the slate cover, the white stones cover, or the wood slats cover), "Autumn Reason" (novel in letter form), "the Average Guy's Guide (to Feminism)", "Contents Under Pressure", "etc.", and eventually "The Key To Believing" (2002 650 page novel), "Changing Gears" (travel journals around the United States), and "The Other Side" (European travel book). Then the three collection books from 2004: "Oeuvre" (poetry), "Exaro Versus" (prose) and "L'arte" (art), followed by her books "The Boss Lady's Editorials", "The Boss Lady's Editorials (2005 Expanded Edition)" , "Seeing Things Differently", "Change/Rearrange", "Death Comes in Threes", "Moving Performances", "Six Eleven", "Live at Cafe Aloha", "Dreams", "Rough Mixes", "The Entropy Project", "The Other Side (2006 edition)", "Stop.", "Sing Your Life", the hardcover art book with an editorial "cc&d v165.25", "Writings to Honour & Cherish (Kuypers edition)", "The Kuypers Edition: Blister and Burn" (as a paperback and a hardcover), "S&M" (as a paperback and a hardcover), "Distinguished Writings (Kuypers edition, cc&d v170.5)", "cc&d v171.5: Living in Chaos", "Tick Tock", "cc&d v1273.22: Silent Screams", "Taking It All In", "It All Comes Down", "Rising to the Surface", "Galapagos", "Chapter 38" ("v1" and "volume 1"), "Chapter 38" ("v2" and "Volume 2"), "Chapter 38 v3", "Finally: Literature for the Snotty and Elite" ("Volume 1", "Volume 2" and "part 1"), "A Wake-Up Call From Tradition" (volume 2), "(recovery)", "Dark Matter: the mind of Janet Kuypers ", "Evolution", "Adolph Hitler, O .J. Simpson and U.S. Politics", "the one thing the government still has no control over", "(tweet)", "Get Your Buzz On", "Janet & Jean Together", "po•em", "Taking Poetry to the Streets", "the Cana-Dixie Chi-town Union", "the Written Word", "Dual", "Prepare Her for This", "uncorrect", "Living in a Big World" (color interior book with art and with "Seeing a Psychiatrist"), "Pulled the Trigger" (part 3 of a 3 part set), "Venture to the Unknown" (select writings with extensive color NASA/Huubble Space Telescope images), "Janet Kuypers: Enriched", "She's an Open Book", ""40"", "Sexism and Other Stories", "the Stories of Women", "Prominent Pen (Kuypers edition)", "Elemental", the paperback book of "the 2012 Datebook" (which was also released as a spiral-bound ISBN# ISSN# "2012 little spiral datebook", "Prominent Tongue", "Chaotic Elements", and "Fusion", the (select) death poetry book "Stabity Stabity Stab Stab Stab", the 2012 art book "a Picture's Worth 1,000 words" (available with both "b&w interior pages" and "full color interior pages", the shutterfly ISSN# ISBN# hardcover art book "life, in color", "Post-Apocalyptic", "Burn Through Me", "Under the Sea (photo book)", "the Periodic Table"" of Poetry", "a year long Journey", "Bon Voyage!", and the mini books "Part of my Pain", "Let me See you Stripped", "Say Nothing", "Give me the News", "when you Dream tonight", "Rape, Sexism, Life & Death" (with some Slovak poetry translations), "Twitterati", and "100 Haikus", that coincided with the June 2014 release of the two poetry collection books "Partial Nudity" and "Revealed". 2017, after hr October 2015 move to Austin Texas, also witnessed the release of 2 Janet Kuypers book of poetry written in Austin, "(pheromemes) 2015-2017 poems" and a book of poetry written for her poetry features and show, "(pheromemes) 2015-2017 show poems" (and both pheromemes books are available from two printers). In 2018, Scars Publications released "Antarctica: Earth's Final Frontier" and "Antarctica: Wildlife" (2 full-color photography books from the first passenger ship to Antarctica in 2017), performance art books "Chapter 48 (v1)" (2009-2011) and "Chapter 48 (v2)" (2011-2018), the v5 cc&d poetry collection book "On the Edge", and the interview/journal/poetry book "In Depth". 2019 saw the release of "(pheromones) haiku, Instagram, Twitter, and poetry" (the final pheromemes poetry book) and "Every Event of the Year (Volume one: January-June)" marking poetry reflecting holidays and events in the calendar year.
Gary, Editor, The Road Out of Town
I like (Kuypers') poetry. So much poetry being written now is existential angst. I like the sort of poetry that paints a picture in your head and you feel like you are there - physically or emotionally - for just a second.
Taproot Zine Reviews (on "Looking Through Their Windows")
I like Janet Kuypers' poems...for a poet under 30, her mastery of the simple word is exceptional. Too many poets, when they attempt a change of persona (especially in the first person voice), the result is often flat, unbelievable, too forced. Not so with Kuypers. In the poem "Private Lives III, the elevated train", she takes us for a ride with morning commute yuppies on a crowded train to work. Suddenly the poet's disgust for these middle-class workers surfaces; when she observes a woman decked out in a full-length fur coat, her reaction becomes the urge to spill coffee on the woman. "I'll bet they don't even know what the animals they killed for this looked like," she writes. Most of the other poems here are good, though Kuypers' emotionality can become intense, if not bewildering. --kn
Jesus Trejo, writer (on the writing of Janet Kuypers)
(Kuypers') poetry is excellent, great, with an aftertaste of self-questioning. All I can hope for is for her to keep on entertaining and amusing with her words the ears of poetry lovers and amateur poets as myself.

Brian B. Braddock, Writer (on 1996 Children, Churches and Daddies)
I passed on a copy to my brother who is the director of the St. Camillus AIDS programs. We found (Children, Churches and Daddies) obvious dedication along this line admirable.

Fred Whitehead, Editor, Freethought History (re: "Philosopher at the Blue Note")
This "Blue Note" poem instantly haunted me because of its gritty realism, and its deceptive "simplicity" (consider further what this guy's "religion" really is...and how "universal" it may be out there). She resolutely tells the truth about the lives of people in contemporary America, shorn of glitter and evasion and deceit. I admire her vigor and her purpose, and especially how she accomplishes all this with freshness of vision. Discarding illusions without mercy, she's one of the bravest new voices on the scene today.

Paul Weinman, Writer (on 1996 Children, Churches and Daddies)
Wonderful new direction (Children, Churches and Daddies has) taken - great articles, etc. (especially those on AIDS). Great stories - all sorts of hot info!

Jerin Stanlake, Writer, Winnipeg, Manitoba, Canada (on the writing of Janet Kuypers and the Internet Site)
Wow! She kicks!! Right on!! I just got this 'ere Internet thingie up and running this week and I been checking out the net for a place to drop my poetry...I wanna make sure I don't waste my time with a poetry server who ain't gonna bother with me....anyways, I was reading The Burning first, then This Is What It Means... and a couple more including The Letter, and I was really impressed, finally someone who actually got personally involved in their poetry, not standing back like some "Frasier Sitcom" intellectual type....you know what I mean? I mean you get into (Kuypers') stuff, you FEEL it...obviously I really like poetry, the more powerful and intense the better...and I think I'm sitting on a g-damn nuclear bomb...

Lionel Bernard, Washington D.C.
(Kuypers') poems are a treat to read.
I read (I Remember) twice and I must say that it was quite moving.
What I like about her writing is that it is very personal and she writes as though you were holding a conversation. Keep up the good work!

Joe Peebles, Editor, Diarist's Journal
(Kuypers' work) is great writing, and she writes extremely well...She is a great writer. Keep up the good work...Diarist's Journal can certainly use people with her talent.

Sharon Grove
I have read through part of (Kuypers') book and it is innnnncredible. (Kuypers is) very gifted!

Fred Whitehead, Freethought History (on "Blister and Burn" and Janet Kuypers)
Blister and Burn (is a) collection the admitably fulfills the promise of its title. I'm amazed at how much (Kuypers) accomplishes and gets done. She is listening hard for the authentic voices of America.
The Prose Garden (on Janet Kuypers)
Janet Kuypers (has been) the art director for a Chicago publishing group and publisher of her own literary magazine. Her works have appeared in print and on the Internet. Through her own experiences, she peers into the emotional fiber underlying society's responsibilities to itself, to its loved and unloved ones, and to its earth. She sees for us all.
Nick DiSpoldo, Small Press Review (on "Close Cover Before Striking")
Sinclair Lewis was fond of saying that college professors liked their literature "cold and dead." That seems like a safe generalization when i consider the cargoloads of vacuous vomit that spews from most university presses.
Sinclair Lewis would read Janet Kuypers. "Striking" is a collection of poetry, essays, letters and diary entries. Like Sylvia Plath, Kuypers has a sense of existential rage but, unlike Plath, her rage is more incisive and focused. She is concerned with problems, whether societal or internal, and "...the violence that often stems from them." Pablo Neruda claims "literature must have a duty toward life" and Kuypers undoubtedly believes this. "Violence" - aside from the obvious forms that fill our streets, homes, movies and television - may even be subtle. In "Taking Out The Brain," Kuypers describes a med student's first sutopsies: "I had a hard time / taking out the brain / cause you know that's where / the memories are / that's what makes him / him..."
Isolation and loneliness are recurrent Kuypers themes and, again like Plath, she is both appauled and preoccupied with suicide: suicide as the ultimate antidote for the diseases of modern society. She creates marvelous if gruesome imagery in her "Hancock Suicide, Chicago, 1994." A handicapped woman throws herself out of a fiftieth floor window of the Hancock building in Chicago and lands near a construction worker who is on a break: "...I felt all of this stuff / hit me, like wet concrete / thrown at me, but I didn't / know what the hell it was / It took a while for me / to realize the woman jumped / she hit the fence, her head / and spinal cord were still / stuck on the fence // I won't hear about this on the news / they try to downplay suicides / but other violence is fine with them."
Kuypers is clever and clear and her book is indeed a bargain.
John Dolan, Deep South
I think (Kuypers is) an amazing writer. Herwork is so straight, and that's so rare...how'd she get so brave?
Gordon Woodruff (about Nation interview with Janet Kuypers)
I read (Kuypers') interview, and it is my opinion that she is very inspiring. Not too long ago, I was caught in a situation that caused me to fall a little under the weather. Someone said that my horoscope said that an older woman would help me get through it. Naturally, I thought I would end up developing a relationship with an older woman, but I was wrong. It wasn't supposed to be taken at face value. You see, I read her interview in Nation and, probably for the first time ever, realized that everything would be okay. So, in essence, she is the older woman that helped me pull through my trying times. Just wanted to say "thanks" and that "she is a great inspiration to many."
Pete McKinley, Writer
I've read all of (Kuypers') short stories and poetry and now she is an enigma.
How can she picture herself in prison so graphically or a dual personality so realistically?
In Mexico, her work would be classified as 'Fantastico.' Maybe she really is a duality in reality. I'm crazy about both of her.
Peter Kowalke, editor, Nation (intro of interview with Janet Kuypers)
They originate from Chicago, but Janet Kuypers' poetry and prose can be found in little magazines across the United States.
The work is personal, with a definite message, and you can always spot a Kuypers piece without difficulty. Her "i"s are lowercasr and the words flow in a stream of consciousness. The work cries out to be heard like a lost soul at confession.
Janet Kuypers isn't a lost soul. She's an active soul, productive because her heart is anything but lost. She knows herself, can articulate herself. The words, flow, the actions are swift due to this unerring direction.
Where did Janet Kuypers come from and where will we see her next month or next year? At twenty-six, she's tackled all forms of media with success. Yet, she remains incredibly personal, accessible., More accessible, even than the individual without such accomplishments. It's a people mission, a quest to interact with the world.
More engaging than her autobiographical poetry or prose, watching Janet's life unfold is a captivating experience. Not many people out in the world are like Janet.
Ernest Slyman, editor, Reverie
Love (Kuypers') work. Enjoy her style, graceful, charming and engaging work. I love her work. And wish to show our other contributors her style and lavish textured charm.
Joyce Carbone, editor, Cer*ber*us
But especially, I like (Kuypers') ability for versatility. She had the rage, the tenderness, the humor.
Angela Uptmor-Herrera (on Janet Kuypers)
I want to praise (Kuypers') essay on pornography. It is wonderful to know that there are intelligent young women out there that "cannot be submissive" either, and are not!!! Keep up your inspiring work; I intend to become an avid fan.
B. Jan Pearce, writer
I feel not only honored to have read (Kuypers') poetry, but as if I were looking into a mirror. We have relished the same music, experienced the same feelings, loved the same men. But then - that's the way it is supposed to be, isn't it - The poet making others feel as if we have survived the same pains and joys. I have been a writer/poet my entire life, probably much like Kuypers in that I never really had a choice about the matter. It is just something we must do; something we are called on to provide in this sometimes callous world of ours to make people "feel" and thereby learn from the emotion. Thank you for sharing it with the world!
Nick DiSpoldo, Small Press Review (on "Children, Churches and Daddies," April 1997)
Kuypers is the widely-published poet of particular perspectives and not a little existential rage, but she does not impose her personal or artistic agenda on her magazine. CC+D is a provocative potpourri of news stories, poetry, humor, art and the "dirty underwear" of politics.
One piece in this issue is "Crazy," an interview Kuypers conducted with "Madeline," a murderess who was found insane, and is confined to West Virginia's Arronsville Correctional Center. Madeline, whose elevator definitely doesn't go to the top, killed her boyfriend during sex with an ice pick and a chef's knife, far surpassing the butchery of Elena Bobbitt. Madeline, herself covered with blood, sat beside her lover's remains for three days, talking to herself, and that is how the police found her. For effect, Kuypers publishes Madeline's monologue in different-sized type, and the result is something between a sense of Dali's surrealism and Kafka-like craziness.
Children, Churches and Daddies is eclectic, alive and is as contemporary as tomorrow's news.
Dylan D. Skola (on Janet Kuypers)
I really love (Kuypers') poems and can relate to everything she says. I am suprised by this. I wish I could read all of her poems. it's like listening to myself. It is what I am thinking but try not to think about or admit.
Fred Whitehead, Editor, Freethought History (on "(woman.)")
Janet Kuypers has gazed into this Hell (of sexism), and is determined to preserve and transmit the lived record of its regions so that, perhaps, others can avoid pain and suffering. She insists that we resolutely examine the roots of our society's obsession with owning and buying and shaping and dominating, which much of the time is men ruling women. I often feel as if she is attempting, in her work, to exorcise the demons that grip America in the name of freedom and "family values."
The style of writing here is direct, honest and searching, but also illuminating. We anticipate that something bad is going to happen in the narrative, but we never know exactly what in advance. But that's not all. Sometimes a woman will find her way out to freedom, to love. Or there might be a revelation, as when a guy gets a cigarette put out on the back of his hand. This is a message, a warning, that there will be resistance.
The truth isn't always pretty. What we have done to women isn't pretty. The paradox is that women are socialized to make themselves as "pretty" as possible, according to the false standards of male fantasies. I'm especially impressed by Janet's designed texts, which demonstrate in graphic form how women are viewed in our culture. Pay attention to the language, to the images, and we can see. Yes, we can all see.
Nick DiSpoldo, Small Press Review (on "(woman.)")
Kuypers is a true feminist in that she demands political, economic and social equality with men. She wishes dignity, not a pedestal, and she is not one of Margaret Mitchell's blushing belles who is vulnerable to the romance of roses and rainbows.
Furthermore, she is that rare female poet who doesn't believe that poetry initially came from Hallmark cards.
I like Kuypers because she is clear, unequivocal and cleverly calculating.
Aron Trauring (on Janet Kuypers)
(Kuypers' work is) very nice. Being afrequent flyer, I especially appreciated the toilet on airplane story (on an airplane with a frequent flyer). And I liked her veggie story (some people want to believe) too (being a veggie, and hating people who can't face the truth).
A. Jacob Hassler (on Janet Kuypers)
I personally enjoy (Kuypers') writings especially. I admire the pummeling truths about your subjects. Only real-life experiences could draw those analogies!
Guy, Editor, Hipnosis Magazine (on the writing of Janet Kuypers)
I loved (Kuypers') work.....Its so refreshing....so many pieces I receive to look at are so formatted and such, and hers is so rich and from the soul.... I especially loved the one (some people want to believe) about being vegetarian (I'm an ovo-lacto also) - this is a conversation I had with someone as well.....very enlightening to know that others suffer my fate.... I really loved them all....
Jason Pettus (on "Close Cover Before Striking")
I am 64 pages into "Close Cover..." right now (just finished the "Knowing Your Neighbors" essay). The things I like the best so far in the book are the little stories, the things about day-to-day life that don't seem to have any neat wrap-up at the end. My two favorite pieces so far are pieces like these -- "Phone Calls from Brian Tolle" and "Seeing Things Differently."
I can't tell which pieces (Kuypers is) writing in her own voice from her own experiences, and which ones are fictional accounts but written in first-person. I usually am a big fan of this (I write a lot of stuff that way, too); for some reason her stuff makes me feel really uncomfortable (I mean, in a good way). I think it's that she writes a lot about these loose edges in behavior, these weird shades of grey that otherwise upstanding, decent, try-to-do-the-right-thing people have.
It's the strange result of reading confessional work of someone you don't know and who isn't famous enough to have all their skeletons hanging in full public view (i.e. Anne Sexton). I should reiterate, I LIKE that. The effect is a very engaging one.
Ernest Slyman (on Janet Kuypers)
I write to say I enjoyed (Kuypers') poem Father's Tears. Very nice. And thanks for writing the poem. It shines bright, lovely. You write sentences that mean business. You write what you understand. I admire your work. I commend you. No extrovert are you. Rather you go about tidying up the world. This and that applied with much charm grace.
Bob Z, Panic Button Press, Sacramento CA
I don't usually like poetry. But I found (Ms. Kuypers') style interesting, liked the images in "wedding lost" and the believability of "farmer" - I get the feeling she knows her subjects well, and has a lot to say. I don't mind use of words like "and" and "the" because they seem to be important anyway. She writes with strong feeling and passion, inspired dropper of verbal bombs.
Richard David Houff, Editor, Pariah Press/Heeltap Review
(Kuypers') poem "taking out the brain" rings true... The homeless are often viewed as mentally ill, lazy, etc. The government hype and media have done a good job impregnating the collective mindset of amerika. At any rate, that's one fine poem - send it and others of a similar nature across the planet.
Dusty Dog Reviews, CA (on "Dysfunctional Family Greeting Cards")
Ms. Kuypers shows us that, in certain circumstances, each person is an enormously authoritative reality to each other person...Ms. Kuypers is adept at creating an emotional layering.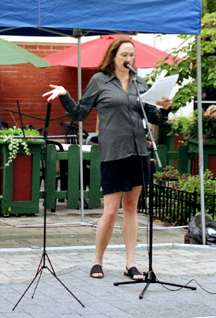 C Ra McGuirt, Editor, The Penny Dreadful Review
"I really like ("Writing Your Name"). It's one of those kind of things where your eye isn't exactly pulled along, but falls effortlessly down the poem.
I liked "knowledge" for its mix of disgust and acceptance. Janet Kuypers does good little movies, by which I mean her stuff provokes moving imagery for me. Color, no dialogue; the voice of the poem is the narrator over the film.
Sam Cucchiara, Editor, SlugFest
There is a compelling, intelligent, imaginative force in (Ms. Kuypers') voice. I think I would unequivacally say that she has the rare gift of expressing the personal as universal - which is art. She's an artist, and the world desperately needs more artists.
Christopher Scott, Editor, Poetry In Progress
I must admit, her pieces were quite moving to both myself and my staff. A few had to stop reading because they were too overcome with emotion. (Kuypers should) give herself a pat on the back for that one.
Jim Cohn, Editor, Napalm Health Spa
I was moved by the powerful sense of detail with which (Janet Kuypers) expresses her memories. Her work is excellent and should be seen.
Craig C. Russel, Editor, The Owen Wister Review
I had never heard of (Janet Kuypers) or her magazine, but suffice it to say, (after reading some of her work) I now want to read everything she has ever written.
Kuypers' work sent a chill down my spine (that's a good thing) and it is easily the best poetry I have read since I started my stint as poetry editor there.
Joe Speer, Editor, Speer Presents
I value her words as they appear on the screen or on paper. Anyway, I'm one of her biggest fans.
Her words create scars on my memory.
(Kuypers is) one of my favorite writers.
Dan Landrum, Editor, Taggerzine
I feel I'm going to be swallowed up in (her) openness... Her honesty wakes me. I'll stop claiming, stop possessing my pain as real - I'll share it with her. (She makes) me examine my humility, the humiliation of being raped and I will no longer feel alone.
I will thank her for rekindling the reminders of the mysteries of this paradoxical adventure we call day-to-day living. I will thank her for sharing her hopes, dreams, and joys along with the pain and confusion.
I admire her courage, her self-honesty, her integrity in putting so much of herself into her work, into her art.
My sense is that (Kuypers) has a strong, articulate voice and makes insightful observations into the human/huwoman conditions.
Christopher Herdt, Editor, Osric Publishing
I enjoyed a great many... (pieces of Kuypers' work). Let me just say that I like (Kuypers') work, and am extremely pleased to include her with the other authors in White Crow.
Kurt Nimmo ( on Janet Kuypers' chapbook LOOKING THROUGH THEIR WINDOWS )
I like Janet Kuypers' poems, even if she occasionally dwells on the emotional consequences of death and pan too much. Even so, her mastery of the simple word is exceptional. Too many poets, when they attempt a change of persona (especially in the first person voice), the result is often flat, unbelievable, too forced. Not so with Kuypers. In the poem "Private Lives III, the elevated train", she takes us for a ride with morning commute yuppies on a crowded train to work. Suddenly the poet's disgust for these middle-class workers surfaces; when she observes a woman decked out in a full-length fur coat, her reaction becomes the urge to spill coffee on the woman. "I'll bet they don't even know what the animals they killed for this looked like," she writes. Most of the other poems here are good, though Kuypers' emotionality can become intense, if not bewildering.
GnymphoWhore (screen name, for a video comment on the poem "The Burning," a rape and alcohol poem by Janet Kuypers on YouTube)
This is fucking amazing... i started crying... its soo deep.... soo true.... amen. and AMAZING job on this poem.. really
---

---

---

---
---
Books and cds
Kuypers' Bio
Kuypers' Poems
Kuypers' Prose
Chicago Poet and Poetry
Chicago Artist and Art