Iron in my Eyes
Janet Kuypers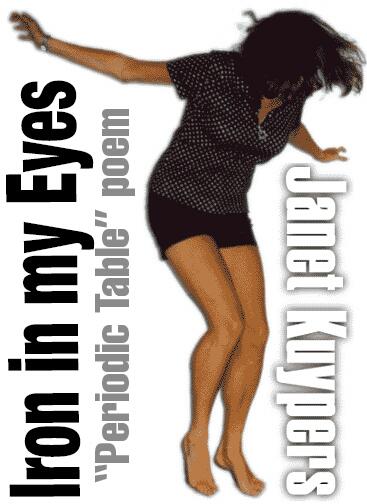 bonus poem from the "Periodic Table of Poetry" series (#026, Fe)
(stemming from "You've Killed Me", written 10/25/11)
4/1/13
You think I was joking.
You think I wanted this to happen.
But this is what it boils down to.
I can no longer respond.
After all I've been through,
I'd think you'd understand.
Come to me.
I dare you.
Open my eyelid.
Shine a light
right into my eye.
See if I respond.
I even heard
that someone said
I looked so pretty
in my hospital bed here,
wearing nice eye shadow.
I know I'm a dark girl,
but they had to be informed
that
that wasn't eye shadow, and
that I had two black eyes.
You see,
that's how the doctors know
I have a brain injury.
When the blood seeps
out from around my brain,
it collects
only in my eyelids.
Iron gives color to blood,
and coming through
from under my skin,
my blood-filled
Iron-rich
eyelids
must have been
a pleasant
mauve
hue.
You think I've got an Iron will,
and I do.
But at moments like these
I wonder
if I have cried Iron,
leaving it in my eyelids
for you to see.
They say your eyes
are windows to your soul.
And mine have been darkened.
Is it by you,
is it by the world,
is it by the hand I was dealt.
Is it all
fate.
All I know
is that mine have been darkened.
Even if it is by Iron.