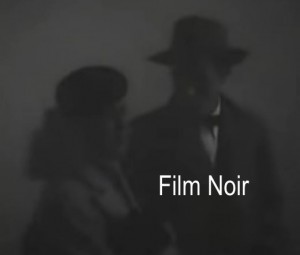 Film Noir (literally 'black film or cinema') was coined by French film critics (first by Nino Frank in 1946) who noticed the trend of how 'dark', downbeat and black the looks and themes were of many American crime and detective films released in France to theatres following the war, such as The Maltese Falcon (1941), Murder, My Sweet (1944), Double Indemnity (1944), The Woman in the Window (1944), and Laura (1944). A wide range of films reflected the resultant tensions and insecurities of the time period, and counter-balanced the optimism of Hollywood's musicals and comedies. ……AMC Filmsite
From 1940 to 1960 films that were mostly black and white and covering subjects that are dark and sexual and concerning subjects involving crime and sexuality. Disillusioned male characters embroiled in intrigues. Male characters like Ray Miland, Humphrey Bogart wearing a fedora and involved with a seductive female character, that's film noir which gained the name after the films were made.
In film noir the villians are truly villainous and usually happy about it. The genre is driven by good writing and plot mysteries. The human encounters are emotionally charged, the women may betry and murder is usually truly a mystery. The plots are driven by the pulp fiction genre which also expressed the anxiety of the early atomic age, the desperation of the times. In the time of Hollywood musicals and comedies, these films expressed the darker side of existence. If there is a dark alley, a mystery lady, a murder, and a guy, captured by intrigue in the middle of a normal life.
10. Strangers on a Train 1951….
9. In a Lonely Place 1950….Humprey Bogard
8 Kiss Me Deadly 1955…..Cloris Leachman
7 Notorious….Cary Grant…Ingred Bergman
6. The Third Man……….Orson Wells
5. Touch of Evil 1958….Orson Wells Charston Heston
4. Sunset Boulevard….1950…Billie Wilder….William Holden
3. Double Indemnity….1944…..Fred McMurray….Billy Wilder again
2. The Big Sleep…..Humprey Bogart….Howard Hawks piece with Laren Bacall
1. Maltese Falcon Humprey Bogart
The names of the films themselves signaled the content, "DOA", Dark Passage (1947), The Naked City (1948). The film movement shadowed a similar movement in literature.

YouTube responded with an error: Daily Limit Exceeded. The quota will be reset at midnight Pacific Time (PT). You may monitor your quota usage and adjust limits in the API Console: https://console.developers.google.com/apis/api/youtube.googleapis.com/quotas?project=633345578512