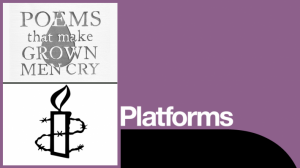 Grown men aren't supposed to cry. Anthony and Ben Holden, and Kate Allen (Director, Amnesty International UK), introduce readings from poems that haunt a host of eminent men; they explain why, in words as moving as the poems themselves.
With Melvyn Bragg, Richard Dawkins, Ian McEwan, Richard Eyre, Mike Leigh, Simon McBurney, Ben Okri, Simon Russell Beale and Simon Schama.

YouTube responded with an error: The request cannot be completed because you have exceeded your <a href="/youtube/v3/getting-started#quota">quota</a>.


editor@artvilla.com
robin@artvilla.com

www.facebook.com/PoetryLifeTimes
www.facebook.com/Artvilla.com