Poetry-prose Story-Poem

AN EPITAPH FOR CHARLIE PHILLIPS

As good as talking is,
Silence is better
Now for me…
If you don't mind,
I'll just sit here quietly,
Thinking of an old man's life,
And how, with his great loud eyes,
He would clatter frequently
Of being wrongly seen,
His lessening sentience, and
The joy he'd feel writing piecemeal
Poems for those few who cared…
.
Intercourse was tentative at first… And
.
With a certain regard
I'd listen (a bit) cautiously,
To Charlie's weird ramblings about
How imperceptible he thought his life had started,
But how it had developed into something larger,
And more meaningfully oriented, despite
How hopelessly frayed he felt,
Drifting,
It seemed, from
One issue to another,
He speculated often why (so many)
Efforts of his had sunk (so often) into doom,
And sinking still were sunk despite his best attempts,
And the piety he displayed towards those who
Construed his life with contempt…
.
As I came to learn;
Something ate at Charlie always…
.
Possessed
Of vain conceit,
His shifting moods
Began to wear on me,
Particularly those times he
Would lash out, cussing bitterly,
Because of some notion he had that
I wasn't listening properly…
And always then
I could hear the knot
In his throat quavering as
He yanked-on his old Army boots
And stomp away into the mud, blood,
And urine of another timeworn battle…
.
Despite all sincerity,
There was seldom any clarity
(With him)
And the same
Behavior played-out
With exhausting regularity…
But always, after his huff, he would find
Me without fail, (no matter where)
And approach me nervously,
At first,
But after a few swigs
(From his tarnished old flask)
He would relax, and
Being more confident then,
I would see (deep in his eyes)
A nub of a thought
Rising up slightly
But it wouldn't be clear until
The booze had had its effect and then
He would look me in the eyes, apologize, and
Petition Jesus earnestly for words to share…
.
And when the words came,
(Which they always seemed to do)
He would scribble them down
And speak them aloud,
As his eyes
Glistened with
Newfound joy, and
His heart burst with hope.
But then, always,
(As the effects
Of the whiskey lessened)
A dark gloom would fall upon him,
And he would ramble bitterly about the
Details of his life as if they were vanishing…
.
Out of the blue one evening
.
A police officer contacted me;
They'd found Charlie
Unconscious,
And, from all appearances,
Robbed by a thug, on the very
Bench he claimed his own.
So I threw on a coat
And rushed out to see,
If there was something I could do…
Maybe, I thought, he was distraught, or bruised,
Or somewhat confused, and just needed help from me…
.
But what I'd thought was for naught…
.
Because
What I was shown,
After being ushered in,
Was a man lying on a gurney–
Drawn and raddled– in a frigid room,
And 'round his arm the plastic tag read
DOA…
Nodding nonchalantly,
The attendant handed me
A plastic bag with his personals
And a dog-eared notebook of poetry;
Uneasily, with a welling emotion,
I thumbed through
And was shocked to see
The last entry was written for me.
.
It read:
.
Our friendship never once decreed
A friend in need a friend indeed
An honest friend who sees a need
Will not impede a friendly deed
To pettiness we won't accede
An honest friend will force no creed
And so it was for you and me
Your friendly deeds did all succeed.
Remember me.
Charlie…
.
So let the night sky cover you
Now that you're gone Charlie, and let
Your poetry weave a bridge to heaven's gate.
Take heart, old friend, because of what you believed, the
Higher mercies will take both your hands now and usher you
Into the happy life you were never given on this Earth…
.
richard lloyd cederberg
2019
__ ________________________________________

AUTHOR BIOGRAPHY 2019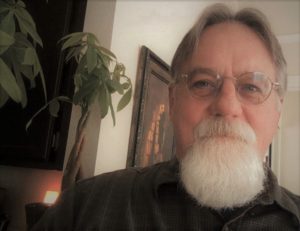 RICHARD was born in Chicago Illinois. He is the progeny of Swedish and Norwegian immigrants. Richard began his journey into the arts at age six. For twelve years he played classical trumpet. Then… the wonderful incursion of British music influenced him to put down the trumpet and take-up acoustic and electric guitar. Richard began writing songs and lyrics and poetic construct. He performed in 17 professional bands. He played clubs, halls, cabarets, and concerts in Europe, Canada, across the USA, Alaska, and even Whitehorse in the Yukon Territories. Richard's band SECRETS was one of the top four Pop-Jazz bands in San Diego for 5 years. In 1995 Richard was privileged to design and build his own Midi-centered Recording Studio ~ TAYLOR & GRACE ~ where he worked until 2002. During that time, he composed, and multi-track recorded, over 500 compositions. Only two CD's were compiled: WHAT LOVE HAS DONE and THE PATH. Richard retired from music in 2003…. RICHARD'S POETRY uses various inspirations: nature, history, relationships (past and present), parlance, alliteration, metaphor, characterization, spirituality, faith, eschatology, and art. He relishes the challenge of poetic stylization: Rhythmical, Poetic/Prose, Triolets, Syllable formats, Story-Poems, Freeform, Haiku, Tanka, Haibun, and Acrostic. Richard has been nominated twice for the Pushcart Prize.
.
PUBLISHED BOOKS: The MONUMENTAL JOURNEY SERIES integrates adventure, mystery, and historical fiction. Journey on the schooner Heimdall with Dr. Gabriel Proudmore, John, Helga, Betsy, Garrett, Captain Olaf Amundsen, Rorek Amundsen, Anders (the Norse) Vildarsen, and Rolf the Wolfhound…

1. A MONUMENTAL JOURNEY…

2. IN SEARCH OF THE FIRST TRIBE…

3. THE UNDERGROUND RIVER…

4. BEYOND UNDERSTANDING…

5. BETWEEN THE CRACKS… a spinoff from the MJ Series…

.
NEW BOOKS being written or compiled:

A NEW RACE OF HuMAN'S… an eschatological drama. Follow the lives of Grant Callarman (the Christian), Peter Pegarian (the plagiarist/conman), Haddon Hathaway (the Humanist), and Professor Wilmington Jonah (the doubting intellect) as they experience the traumatizing global translation of the saints, Daniels 70th Week, and the Millennium, where they all are destined to meet once again.

UNDER SILENT BRIDGES… a diversified collection of Richard's poetic invention, short-stories, and essays. MEC's photography.