Apple Paintings by David Michael Jackson
I began painting apples because apples are easy to find and an artist needs subjects. Not everyone has naked ladies wandering in. Most artists live ordinary lives and it is the ordinary that is often good art. I figured to be the apple painter. I said "Well I'll just paint apples." It's a limited subject and I did move on but apples are good for form, shadow and negative spaces.
Most of my apples were red so I will start with a small apples painting of yellow apples.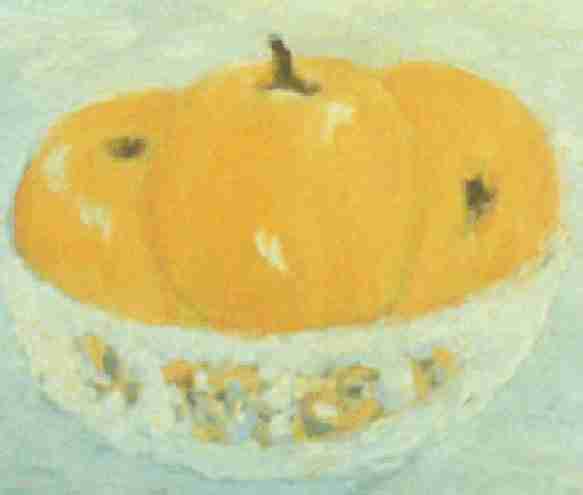 Apples Paintings
I wish I could report the location of this painting but paintings get away when they aren't worth anything and this artist doesn't know who he gave it to. It was lying around and the only price for something of no value is free if you like it. The only reward in most artist's lives comes from individuals who may appreciate a piece enough to hang it, to simply hang it.
Here is a painting of some red apples:

A small image is all I have left of this one. My apple paintings are inspred by Cezanne of course who embodied the form of the apple and orange into great art. His Still Life with Curtain is a guide for all art and artists.
The last pure apple painting today features apples falling in a plane: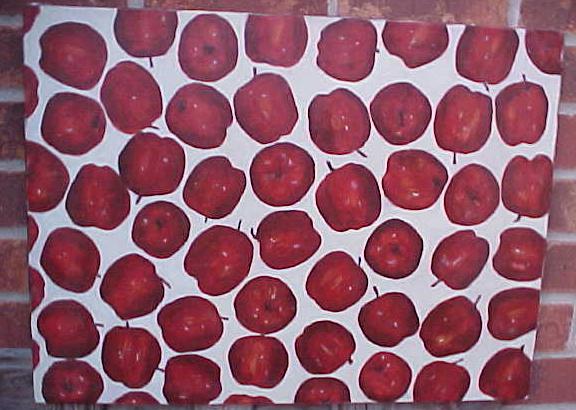 Apples still figure in my art. They appear in my first large abstract, Food For Thought: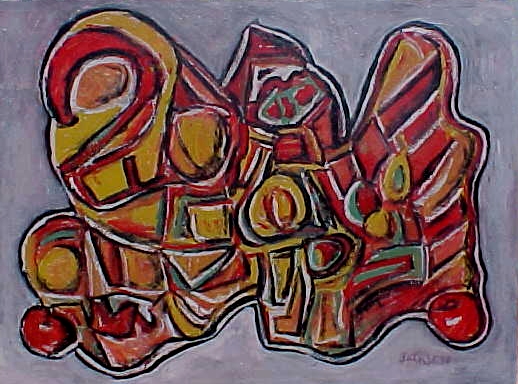 Apple Still Life For Sale
So the apple represents life, form and color for the artist. It is a symbol of life and love. Apples have always represented the Garden of Eden and original sin. Apples are symbols in all cultures
Fertility; love; joyousness; knowledge; wisdom; divination; luxury; but also deceitfulness and death. The apple was the forbidden fruit of the Golden Age. As round it represents totality and unity, as opposed to the multiplicity of the pomegranate, and as the fruit of the Tree of Life given by Iduma to the gods. Eris threw the golden apple of discord among the Gods. As the apples of the Hesperides and the fruit of Freya's garden, it symbolizes immortality. Offering an apple is a declaration of love.
Artists are keenly aware of symbolism and metaphor. One example is Son of Man by surrealist painter René Magritte:


via wiki Son of Man