The Son
I'm older than my father was
much older
and my mother too
which has me wondering sometimes
if there is a heaven
and we should meet.
like what would it be like
not that I believe in heaven
 but I was just
you know, thinking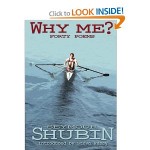 Click the book to visit Seymour Shubin at Amazon. Why me is a great gift because it it truly intuitive. I am reminded of the best short work of William Carlos Williams. Shubin is condensing his stories with his poems. Their simplicity is deceiving. The man has written so many books that he knows how to tell a story and he seems to already know short verse like he's been here all along. Bravo.
david michael jackson
Comments