The Kelpies are 30 metre high horse-head sculptures, standing next to a new extension to the Forth and Clyde Canal in The Helix, a new parkland project built to connect 16 communities in the Falkirk Council Area, Scotland.
Wikipedia
30 metres tall ……… designed by Scottish sculptor
Andy Scott.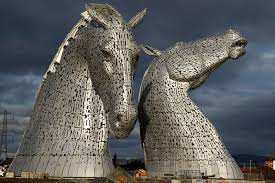 YouTube didn't like something about TubePress's request. - You cannot request beyond item 500.