The sudden drizzle that brought long-sought fulfillment
To the scorched shacks of the country masses
Knitted the serrated peak and the neglected pavement
Into an aquamarine fabric under whose grace wild asses
Brayed with glee. The rusted generator attached
To the cola factory hummed loudly and brought
Back memories of the dull headaches which once latched
On to you. But these were phantoms of imagination which caught
You unawares, lost in the coerced stillness induced by your drab work
That ate you up slowly, constricting your vision
Beyond which strong-legged peacocks continued to jerk
Their crested heads in unison with the swaying trees that season.

Later, the sparrow-squeaks and the marketplace shouts
Which came up the verges were glinting arrows that quelled your doubts.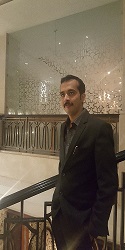 Brief Bio: Bhupender K Bhardwaj, an IRTS officer, 27 years of age works with Ministry of Railways, Government of India. He has been composing poetry since the last few years. His influences are Derek Walcott and Seamus Heaney. His poems have been published by Mad Swirl, Indian Review, The Galway Review and Kingston Creative Writers' Blog. Also, He was recently longlisted for The Toto Awards for Creative Writing 2016 in the Poetry category.


www.facebook.com/PoetryLifeTimes
www.facebook.com/Artvilla.com
robin@artvilla.com
editor@artvilla.com


goodreads.com/author/show/Robin Ouzman Hislop
http://www.aquillrelle.com/authorrobin.htm
http://www.amazon.com. All the Babble of the Souk. Robin Ouzman Hislop
www.lulu.com. All the Babble of the Souk. Robin Ouzman Hislop
https://www.amazon.com/author/robinouzmanhislop
http://www.innerchildpress.com/robin-ouzman-hislop.All the Babble of the Souk