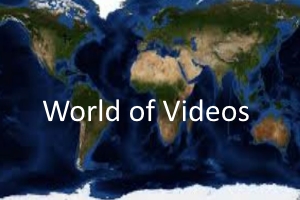 In another post I mentioned Heinrik. Heinrik has now published some pages. Some of you have seen our video galleries. We make sparing use of a "plugin" that searches Google for videos. One of our partner site, however, is dedicated to educational video tours. It is the engineer who thinks that the computer is the ONLY way to do this complex task. I created Heinrik to introrduce things when there are a lot of things to introduce that are very similar.
To write an original blurb saying "Hey we thing you might like these videos of Albania….." , and then to change it to, "Countries? yeah we like Argentina too. We have these videos….." is easy for two countries. To introduce a over 200 countries in different ways is taxing to say the least. So I programmed Heinrik and he's now published a tour of the world with history and the music of the world. So far, 205 countries and videos searching of the three subjects with Heinrick droning on in slightly random ways about so many subjects in so many pages. Bless his boring little mechanical heart.
Heinrick puts 205 countries on the sidebar. That's way cool. One click to everything. Another mechanical thing I do on these pages is to use an old HTML trick to pop around on the page. A web page as mechanical…..Let's take the mechanical tour of this page…..oh come on it will be fun….
I copied Heinrik's links and used them on this page……
Top of Page ———-Tours———-Music———-History
Cool! Way cool. You made it down here to Tours. While you are here, I'll tell you about why I am doing this. These pages all link to Doctors Without Borders. This is in honor of Summer Breeze at Motherbird.com. It was her cause and we have picked up the banner and all of the new pages at Tubegle pay tribute and ask us to help the doctors in these time. By using technology to tour and search the world for tours of the world, I can spread a little peace and love butter on the world bread in some tiny small way.
Now click "Music"

 Top of Page ———-Tours———-Music———-History
Boom you are here. Tubegle's new pages seem to really turn up a bunch of good folk music of the world. One thing to do is to play tours muted and play music too. All of the videos will play continuously and you can take tours to music……
Now click "History"

Top of Page ———-Tours———-Music———-History
Well you've made it down to the bottom of the page again!…..be careful, the jump around links are so much fun! All they do is pop somewhere but I do like to click buttons and see things happen!…. I know, after posting this, that I will visit this page again!…lol…..History. One thing all countries have is history and Heinrik and I went searching for it. Heinrik put in a lot of other historical and music and country links to Google and Wikipedia and Tubegle as reference.
Give him and us a chance. You already know how the pages work because you have taken the training here. So visit the world with Heinrik and me
Comments