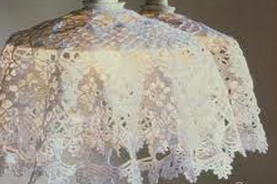 Lady of the Lamp.
In soft silt sheen, a luminous
vacuous sphere, sightless
she hangs cowled in white lace
her veiled intent of innocence.
A faceless bubble of glass,
a beacon without a shore,
a satellite from outer space
she over floats the floor.
Phantom nun, moon to her deathless
night, bland lamplight her zombie kiss,
a rustle, dry scratch soft on the face
& darkness in night´s draperies,
where the white lace of her shawls
crawl in cobwebs across the walls.
you may also like Robin's Laminations in Lacquer Poem at our new Poetry Life and Times. Robin is now our editor & admin at editor@artvilla.com & robin@artvilla.com
and you can also visit our Face Book sites at www.facebook.com/Artvilla.com & www.facebook.com/PoetryLifeTimes
Comments