The wine shop says that it's a dry day.
A Sikh God was born
about 900 years ago
and all alcohol shops are closed today
to celebrate his birthday.

God does it again.
God doesn't want you to have a good time.
God doesn't want you to celebrate your tragedies.
A man on this foggy night is
cutting through the chilly winds
of the capital city,
one shop to another
in search of a beer,
to gulp down his loneliness
with a pack of chips
but no!
God does it again.

God wants you to suffer,
like a bug inside a cobweb.
God doesn't want you to do
nothing.
To do nothing in the world
so restless
and fast
is something.
To drink beer at home
on a Monday
afternoon is a statement
of protest against
capitalism,
mad speed
and career.
But no!
God does it again.

I walk on the streets and see
some more people like me,
in search of a beer.
Together we walk
like revolutionaries on a mission,
but soon
everyone gets dispersed
in different directions
like revolutionaries on a mission.

I am outside a bar
reading the menu
when the bouncer
comes near me
and says
"No sir. We don't allow
people wearing slippers
in our bar. "
I take a U-turn and
walk back wearing the same
slippers, of 9 number
half-covered with mud
and rest in sadness.

I see an expensive bar,
where ladies with great legs,
smelling of good perfume
and men dressed in fine attires
Smelling the good perfumes
of the ladies
Sit together,
chat
and laugh.

I enter it
and order the least expensive beer.

If you want to know
the real taste
of beer, you should
drink it on a dry day.
One gulp goes down
and its feels like
a pink flower
blooming near
your intestine.

Sitting alone,
I take out my note book
and decide
to write a poem
so as to not feel guilty
about spending so much
money on a single beer.

This poem costs 300 Rupees!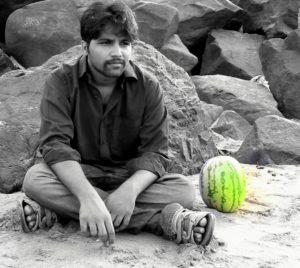 Short bio

I have done my Masters in Arts and Aesthetics from Jawaharlal University ( JNU , Delhi ) , India . I completed the Filmmaking course FTII, Pune, one of the most reputed film school in Asia. . In past I has assisted experimental filmmakers .Some of my have been shown to various film festival across the world.

I have a deep interest in poetry writing/reading . Mundaneness of life and finding the sense of humour in tragedy is something which interests me and is something which I try to reflect in writing.




www.facebook.com/PoetryLifeTimes
www.facebook.com/Artvilla.com
robin@artvilla.com
editor@artvilla.com

goodreads.com/author/show/Robin Ouzman Hislop
http://www.aquillrelle.com/authorrobin.htm
http://www.amazon.com. All the Babble of the Souk. Robin Ouzman Hislop
www.lulu.com. All the Babble of the Souk. Robin Ouzman Hislop
https://www.amazon.com/author/robinouzmanhislop
http://www.innerchildpress.com/robin-ouzman-hislop.All the Babble of the Souk