O Lord of the Apes, number one primate,
We eat the flesh from the bones of our dead,
Our world of Moloch founded in bloodshed,
Created and afterwards drowned in it.
Formed from our many forked tongues we but seem,
Ephemeral approximate translation.
Initial conditions defy prediction,
More money creates a dynamic meme.
We eat the flesh from the bones of our dead,
Those who we've killed are the ghosts who serve it.
Our knowledge flows from little bloody bits,
Hands that made fire and language, bloodshed.
Yet infinity remains unforeseen:
But knowledge is born from its oblivion.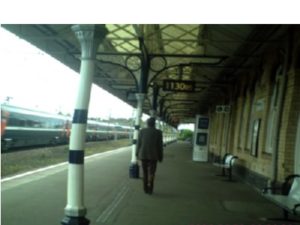 Robin Ouzman Hislop was editor of the online monthly journal Poetry Life & Times, which he took over from Sara Russell in 2006 and which now features at Poetry Life & Times Artvilla.com, where he is also Co Editor at www.artvilla.com.
He has been published in various poetry journals and online journals including http://www.thehypertexts.com/main.htm. Recent publications include "Voices without Borders Volume 1", "Cold Mountain Review", Appalachian University N Carolina, "Post Hoc" installed at Bank Street Arts Centre and "Uroborus Journal" 2011/12 Sheffield. S Yorks and "The Poetic Bond 11 & 111." His Spanish sonnet translations appear together with his own sonnets in an anthology for sonnets The Phoenix Rising from the Ashes: Anthology of sonnets of the early third millennium = Le Phénix renaissant de ses cendres : Anthologie de sonnets au début du troisième millénaire.―published by Friesen Press Ontario Canada. At present he is engaged working on the translation of contemporary Spanish poets with the poet Amparo Arrospide with a view to publication in the USA in 2015.
***
editor@artvilla.com
robin@artvilla.com
www.facebook.com/PoetryLifeTimes
www.facebook.com/Artvilla.com
Comments