It was a mid Spring full moon,
which, as he looks over his shoulder,
seems to be laughing
                                                  at its own joke.
People often thought they were twins,
actually they were just brothers
who met on
                             relatively rare occasions. There lives
 had been as different as chalk & cheese.
 She scrutinizes them from the opposite table,
 anyway,
 they were both long past it,
                                                                too late at the gate.
And as they walk away, who´s poor,
he thinks,
her laughter's shrill & harsh,
following them
                                      into the alleyways long after.
Only one of them hears it,
the other just goes on talking into the blue.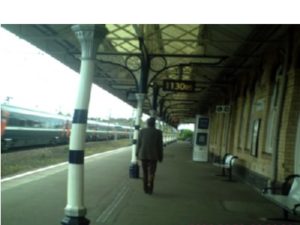 you may also like Robin's Laminations in Lacquer Poem at our new Poetry Life and Times. Robin is now our editor & admin at editor@artvilla.com & robin@artvilla.com
and you can also visit our Face Book sites at www.facebook.com/Artvilla.com & www.facebook.com/PoetryLifeTimes
Comments